Background
The outlook of 2022 marks the year of uncertainty and uneven economic development. World economy today faces many challenges namely prolonged COVID-19 impact and possibility of new variant, international politics and rising costs along supply chains, and climate change which threaten security of global economy. In fact, advanced technology development such as virtual world, digital currency, AI, and automation offers new economic horizons, but also causes a divided world between people who have access and those who do not. Despite this uncertain circumstance, new opportunities can also arise by making good use of the challenges. Businesses have to be transformed in having new business models, products, services or ethics or all to cope with the challenges. Looking forward to many years from now, it is interesting to see what the future will look like.
The Asia-Pacific region is no doubt the factory of the world, the hub of supply chains, and major incubation areas for new innovations. In terms of international trade, the Asia-Pacific region has many (but also overlapping) free trade agreements. Populations of the Asia-Pacific region accounts for 60% of the world population and includes very large economies like India and China. The region also has strong diversity in both cultures and beliefs. Regarding these influential roles of the Asia-Pacific region to global economy, if the Asia-Pacific is affected by the macro challenges, its impact will be profound in large scale. At the same time, any initiatives/proactive actions led by the Asia-Pacific players will potentially lead the world to the new horizon.
The International Institute for Trade and Development (ITD) was officially inaugurated on 1 May 2002 during the Mid-Term Review Conference of UNCTAD X, hosted by the Thai Government. ITD is now a government entity as a public organization under the Ministry of Commerce of Thailand. With the mission of being a center of research and training on international trade and investment issues, ITD hosts a regional forum annually to review new trade and investment trend in Asia-Pacific region and its sub-regions to enhance potential in trade and development of the countries.
In this year, ITD is honored to organize an annual Trade and Development Regional Forum 2022 on the theme of "Futuristic Asia-Pacific". The main objective of the forum is to explore the future of the Asia-Pacific region by highlighting proactive movements of businesses, which are key innovators and influential players in an economy, toward shaping the new frontier of the region. The forum will touch upon businesses in key dynamic sectors regarding their current challenges, current circumstances, and probable solutions for overcoming the limits and reaping new opportunities. The key dynamic sectors shall include financial sector, technology sector, energy sector, Fast-Moving Consumer Goods (FMCG), space economy, logistics sector and service sector.
At the end of the forum, our expected outcome is to deliver concrete thoughts of the future for Asia-Pacific and relevant policy recommendations specifically in the areas of international trade and investment. In addition, through sharing knowledge, visions and experiences of experts and business executives, we hope that this regional forum will also inspire individuals to see opportunities out of the chaos and look forward to the new positive momentum of Asia-Pacific region which can trigger the whole global economic system.
Purpose of the regional forum
1. To exchange information, perspectives, visions, and experiences on businesses, international trade and investments with key experts from public and private entities, international organizations, and other stakeholders in the field of business, international trade and investment.
2. To acquire concept, thoughts, and economic policy framework for Asia-Pacific region
3. To propose policies and actions that will support better trade and business environment for Asia-Pacific region and deliver relevant policy recommendations for all government entities in the region.
4. To strengthen knowledge for promoting new economy that align with Bio-Circular-Green Economic Model (BCG Model) for the region.
5. To promote and strengthen new economic system that suits with Sustainable Development Goals such as SDG 7 (Affordable and Clean Energy), SDG 8 (Decent Work and Economic Growth), SDG 9 (Industry, Innovation, and Infrastructure), SDG 10 (Reduced Inequalities), and SDG 11 (Sustainable Cities and Community).
Date: 12 October 2022
Time: 09.00-17.00 hrs. (Bangkok local time/ UTC+7)
Venue: Grand Hyatt Erawan Bangkok: Bangkok, Thailand
Language: English and Thai (Simultaneous Translations)
Trade and Development Regional Forum 2022 "Futuristic Asia-Pacific"
กิจกรรมนี้ได้ปิดการสำรองที่นั่งแล้ว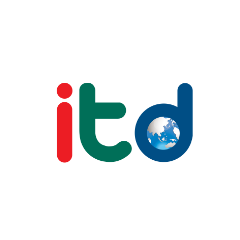 About the event organizer
International Institute For Trade And Development

www.itd.or.th

www.facebook.com/itd.th

www.youtube.com/user/itdlive